Podcast: Play in new window | Download
I'm more than a little sleepy this week. On my 3 am drive home from work, my wife informed me that our 2 year old is sick. This meant I was up with him the whole rest of the night, clear up to recording time this morning. The news brings several women who seem to be "weird adjacent," including the return of the McDonald's Szechuan Sauce. The "Jackass Of The Week" left me with more questions than answers, and at long last This week's "Recommended Listening" feature goes to the Brand X Podcast.
 -WEIRD NEWS-
A 16 year-old girl's lung collapsed while screaming at a "One Direction" concert. Doctors found a small tear in her lung and air pockets in multiple other organs. They sent her home saying that the tear will heal and air will reabsorb on it's own.
After driving 45 minutes and waiting in line for hours, one of the few people to get a packet of McDonald's Szechuan sauce actually managed trade it for an entire car.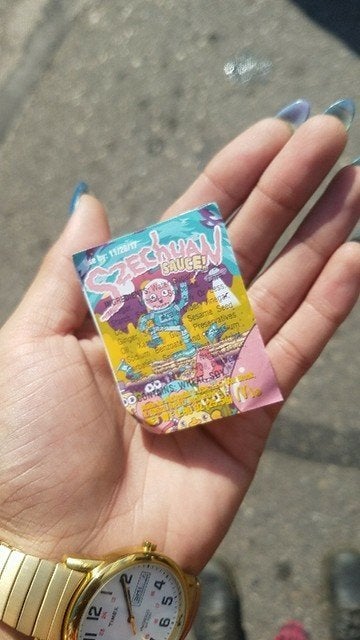 Three Chinese women were left stuck in a South Korean airport after traveling to have extreme plastic surgery. The women's faces were extremely swollen and bandaged and they were completely unrecognizable compared to their passport photos.
 -JACKASS OF THE WEEK-
A North Dakota man was arrested at a gas station after he was seen trying to light his cigarette with the gas pump handle. Let's be fair, he was arrested for possession of meth, but it was the gas pump bit that he got everyone's attention in the first place.
 -RECOMMENDED LISTENING-
Brand X Podcast
http://brandxpodcast.com
"John and Deuce invite you to come eavesdrop on their freewheeling conversations on assorted topics. It's unscripted, unedited, and always funny."
 -Promos This Week-
Long Winded As F***
Nerds With Words